The Dr. Landucci Foundation, a donor-advised fund at Silicon Valley Community Foundation, was created to give recognition to deserving young people who excel academically or by contributing to our community. The Dr. Landucci Foundation has donated more than a million dollars to local schools over 50+ years
Starting in 1969, Dr. Al sponsored awards and scholarships anonymously in less financially fortunate schools and per the request of the San Mateo Foster City Elementary School District Board, expanded to offer scholarships to all schools in their district.  The scholarships have since expanded to other schools and districts in San Mateo County.
The Dr. Landucci Foundation sets guidelines. Each year grantee schools, through a competitive process, have their faculties and administrators solely determine the recipients. For more information, please contact your school's scholarship representative.
The annual elementary scholarships are awarded in five areas to 5th and 8th grade students for outstanding achievement in literacy, academics, community service, science and mathematics.
In addition, a scholarship is also awarded to an exemplary student that is entering the dental assisting program at the College of San Mateo. It is offered to all high schools in San Mateo County.
Landucci Scholarship recipients that have not received the scholarship metal and ribbon should contact Suzi Riley with SMFCSD at 650 312-7248.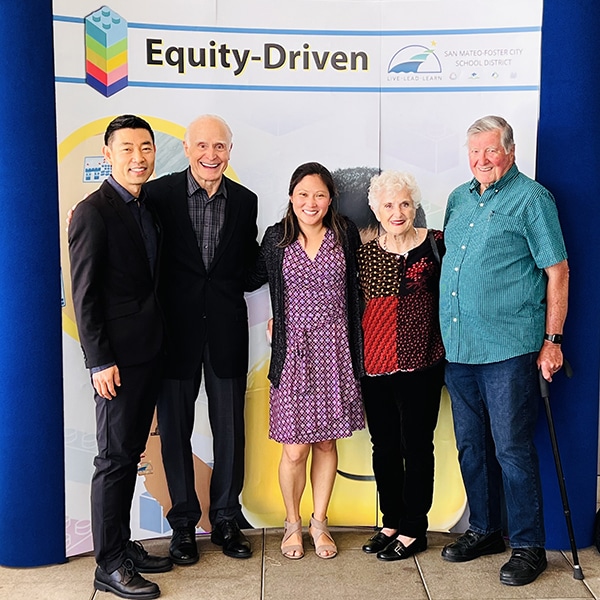 Dr. Landucci Scholarship Committee
Left to Rright: Dr. Steven Liu, educator University of Pacific, San Francisco; Dr. Al Landucci; Dr. Krista Hirasuna; Joyce Burns, retired teacher; Leo Burns. Not in photo Beth Freeman, teacher in Brentwood and Suzi Riley, San Mateo Foster City School District.
Dr. Al Landucci practiced orthodontics for over 48 years in San Mateo and Foster City then retired in November 2016. Now he is volunteer teaching 2nd and 3rd year Postdoctoral Residents parttime at the University of California, San Francisco (UCSF).  Al was born at Stanford University Hospital and attended Beresford Elementary, Borel and Hillsdale High Schools, in San Mateo.
When Al was in college he was an orthodontic lab technician and orthodontic assistant in the present Orthodontics of San Mateo office location. He graduated from the University of California. He earned his doctorate in dentistry and specialty in orthodontics at UCSF, where he was distinguished by the faculty with Omicron Kappa Upsilon (Honorary National Scholastic Dental Society). At UCSF, Al was Student Body President and he was the first student President of UCSF University Union. He taught at UCSF and has been a clinical instructor of orthodontics at the University of the Pacific.
Dr. Landucci was a member of California Club, an advisory group to the President of the University of California. He has been on the board of many charitable organizations, including Chairman of the Board of the San Mateo Region, American National Red Cross. Al has also been on the boards of many dental and orthodontic associations, including San Mateo County Dental Society, offices in California State Society of Orthodontists, past President of California Society of Dentistry for Children and past president of the California Association of Orthodontists.
Dr. Al was the first dentist to earn a Mastership in the American Society of Dentistry for Children for his extensive post doctorate continuing education and teaching. Landucci completed over 4,000 hours of post-specialty continuing education in dentistry for children, dentistry and orthodontics to get that award. Al volunteered four summers doing dentistry for kids in poverty areas of Mexico. Because of his dedication to dental health and education of children, the American Society of Dentistry for Children honored him with their national Distinguished Service Award.
The San Mateo County Dental Society previously honored Al with their Distinguished Service Award, with the 2002 President's Award "in recognition for his outstanding service to the San Mateo County Dental Society" and with the 2004 Board of Directors Award "for continued outstanding services and devotion to the ideals of the dental profession and this society."
Al was a Board-Certified diplomate of the American Board of Orthodontics and was awarded membership in the Pierre Fauchard Academy and a fellowship in the International College of Dentists; the two International Honor Dental Organizations. His hobbies are family, home, computers and high technology especially in their application to orthodontics, hiking, swimming, cycling, skiing, libraries and education.  Dr. Al was the City of San Mateo and San Mateo Area Chamber of Commerce "Citizen of the Year." He and his future husband Steven Liu, MD, DDS travel a lot and do many activities in the Bay Area.